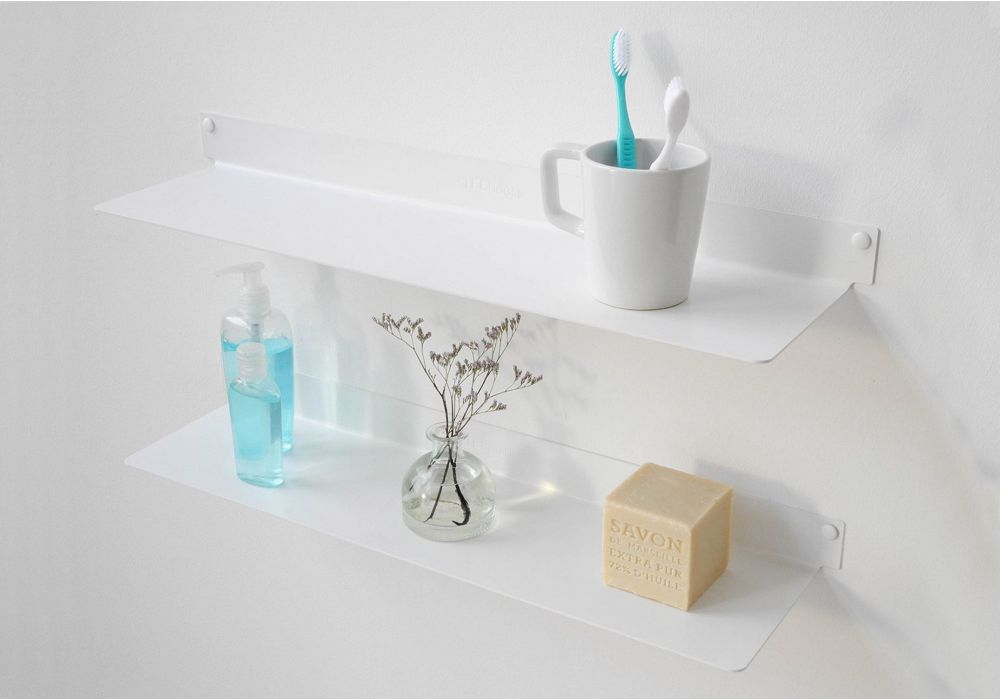 Bathroom shelves TEEline - Set of 2
Set of 2 Bathroom shelves TEEline.
Dimensions: 5,9 inch deep, 23,6 inch wide and 1,9 inch high.
Material: Aluminium.
Can support up to 22 pounds.
Screws and plugs included.
Practical and simple-to-attach
Depth

2 x 15 cm

Height

2 x 5 cm

Lenght

2 x 60 cm

Weight

2 x 2 kg

Capacity

2 x 10 kg

Painting

Matt Epoxy

Material

Aluminium
Set of 2 Bathroom floating shelf TEEline
The latest design in the TEEbooks line of wall shelves, TEEline is a practical and simple-to-attach floating shelf.
Only two screws are needed to attach it to the wall int the bathroom.
Available in 2 different sizes, the TEEline shelves adapt to any space to enhance the objects they hold.
See more Bathroom shelves.

Our customers also like
Price

$316.00

Regular price

$396.00

-$80.00

Price

$444.00

Regular price

$576.00

-$132.00

Price

$444.00

Regular price

$576.00

-$132.00

Price

$277.00

Regular price

$339.00

-$62.00

Price

$199.00

Regular price

$218.00

-$19.00

Price

$444.00

Regular price

$528.00

-$84.00

Price

$92.00

Regular price

$118.00

-$26.00

Price

$655.20

Regular price

$819.00

-20%

Price

$444.00

Regular price

$576.00

-$132.00
Others products in the same category