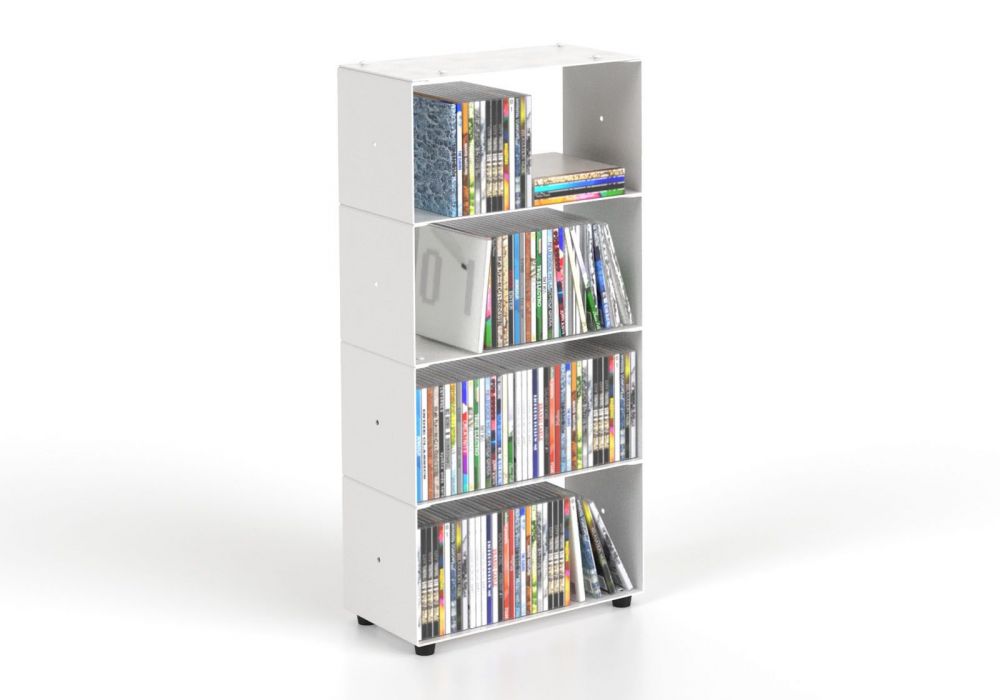 Cd storage W30 H60 D15 cm - 4 shelves
Composed of 4 shelves.
Storage solution that is simple, effective and can be adapted to any interior style.
Dimensions: Width 30 cm x Height 60 cm x Depth 15 cm.
The unit offers a storage space holding approx. 112 music cds.
Material: high-end steel, FE 360 DC01.
Comes with handbook and assembly equipment.
Wall mounting option available.
Depth

4 x 15 cm

Height

60

Lenght

4 x 30 cm

Painting

Matt Epoxy

Material

Acier FE 360 DC01
Cd storage W30 H60 D15 cm - 4 shelves
Store and organise your books, music cds and vinyl records of all shapes and sizes with the new Biblio-Tee modular bookcase. Perfectly adapted for storing your books, it will find its place in your home with refinement and discretion. The Cd storage 4 shelves 30x60x15 cm composed of 4 levels of 30 cm can hold up to 112 cds. Sturdy and easy to install, this new bookcase has been designed to showcase your music cds !
Discover our full range of cd storage units.

Our customers also like
Price

$292.80

Regular price

$366.00

-20%

Price

$444.00

Regular price

$576.00

-$132.00

Price

$436.80

Regular price

$546.00

-20%

Price

$277.00

Regular price

$339.00

-$62.00

Price

$655.20

Regular price

$819.00

-20%

Price

$481.60

Regular price

$602.00

-20%

Price

$316.00

Regular price

$396.00

-$80.00

Price

$294.40

Regular price

$368.00

-20%

Price

$444.00

Regular price

$528.00

-$84.00
Others products in the same category
Price

$625.60

Regular price

$782.00

-20%

Price

$208.80

Regular price

$261.00

-20%

Price

$282.40

Regular price

$353.00

-20%

Price

$111.20

Regular price

$139.00

-20%