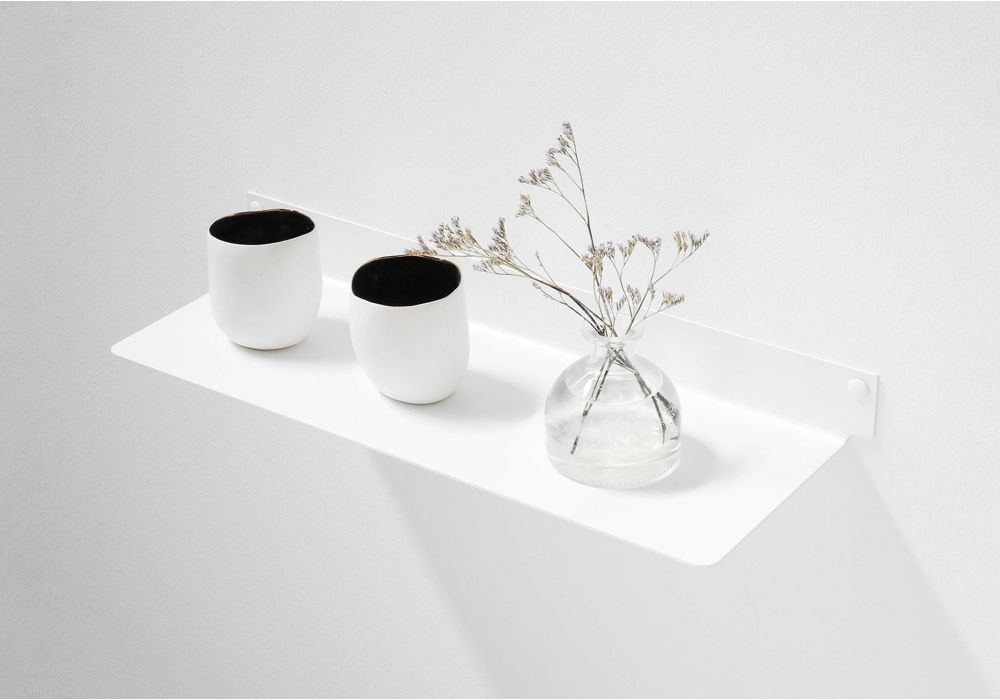 Floating shelf TEEline 45 cm
The TEEline wall shelf is a floating shelf for the home or for the office.
Dimensions: 5,9 inch deep, 17,7 inch wide and 1,9 inch high.
Material: FE 360 DC01 thick steel.
Screws and plugs included.
Practical and simple-to-attach floating shelf.
Depth

15 cm

Height

5 cm

Lenght

45 cm

Weight

1,3 kg

Capacity

10 kg

Painting

Matt Epoxy

Material

Acier FE 360 DC01
The design wall shelf: storage without taking up space
This shelf offers a comfortable surface to store, store and display your collections, decorative objects, books and DVDs with elegance. Even in the kitchen, your white shelves will be practical to hold spice jars or small recipe books on its 15 cm deep surface. Take pleasure in decorating the walls of your living room, office or bedroom with these design wall shelves that you can place wherever you want on your wall to personalise your design storage combination. Two well aligned rows will bring a linear style and enlarge the length of your rooms. A staggered or asymmetrical arrangement will make your wall decoration more dynamic.
In any case, thanks to these design wall shelves, you will gain in storage capacity without cluttering up your rooms on the floor, thanks to this wall storage furniture! The TEEline design wall shelving is the ally of small spaces, the solution to save space. It is ideal to personalise your bookshelf according to the expected aesthetic result. You can even optimise the space by adding other combinations from the TeeBooks range for an even more harmonious look.
Assert your style by opting for TEEBooks quality
Giving style to your interior and choosing quality is the winning bet you make with all the shelves in the TeeBooks range. The TEEline shelf is no exception to the rule of high quality since it is made of FE 360 DC01 steel, a very resistant high-grade material that does not rust and supports a considerable weight. Although the shelf has a thick modern look, it is still light and therefore easy and convenient to fix to the wall. Very easy to assemble thanks to the screws provided, this bookcase made in Italy will quickly decorate the walls of your living rooms, bedrooms or any room where you need storage.
All you have to do is place an order and have it delivered! TeeBooks offers you free delivery from 200€. See the other models of design wall shelves.
How to fix a wall shelf ?
All wall types
How to fix a wall shelf ?
Plasterboard wall
How to set up your bookcase?

Our customers also like
Price

$328.00

Regular price

$384.00

-$56.00

Price

$284.00

Regular price

$414.00

-$130.00

Price

$199.00

Regular price

$218.00

-$19.00

Price

$312.00

Regular price

$384.00

-$72.00

Price

$488.00

Regular price

$576.00

-$88.00

Price

$167.00

Regular price

$192.00

-$25.00

Price

$444.00

Regular price

$576.00

-$132.00

Price

$316.00

Regular price

$396.00

-$80.00

Price

$655.20

Regular price

$819.00

-20%

Price

$176.00

Regular price

$192.00

-$16.00
Others products in the same category
Price

$92.00

Regular price

$118.00

-$26.00