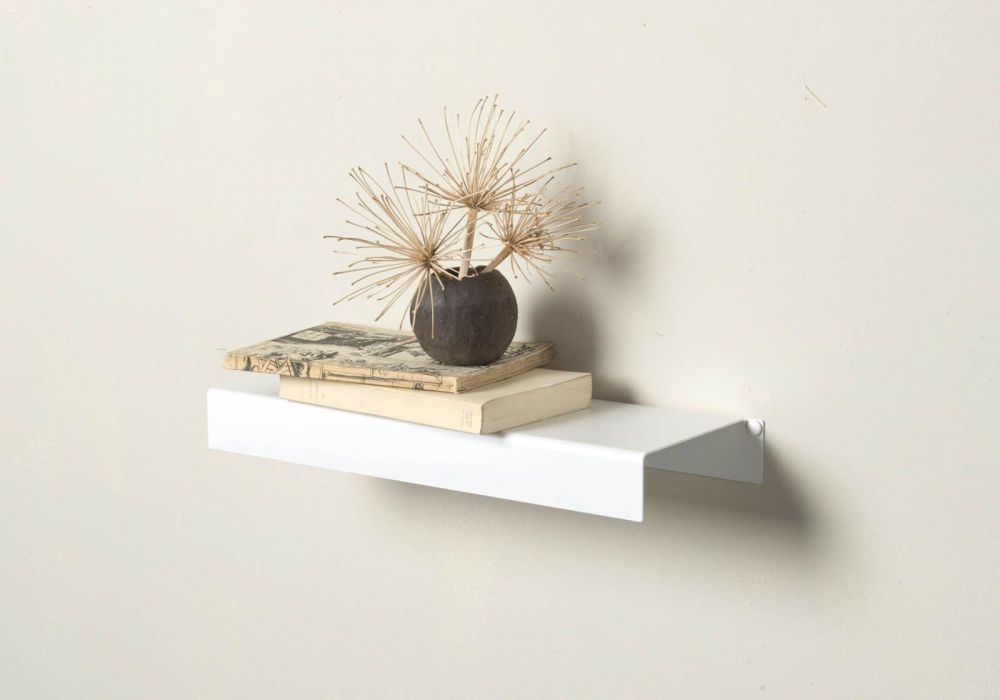 Wall Shelf - white metal 17,71 inches long
The Wall Shelf - white metal 17.71 inches long is a thick wall shelf for your home or office.
Shelf Dimensions: 5.9 inches deep, 17.71 inches wide and 1.9 inches high.
Material: Steel FE 360 DC01.
Each shelf can hold up to 22 pounds.
Screws and wall plugs provided.
Practical and easy to install.
Others products in the same category
Depth

15 cm

Height

5 cm

Lenght

45 cm

Weight

2 x 1,3 kg

Capacity

10 kg

Painting

Matt Epoxy

Material

Acier FE 360 DC01
Add a designer touch to your home
A new creation in the contemporary style of TeeBooks, this white metal wall shelving unit will become the key part of a designer decor that combines storage, practicality and modern style. What could be better than a designer storage unit that brings elegance and brightness to your room? That's the task TeeBooks has set for itself with this Wall Shelf - white metal 17.71 inches long. Painted steel, the current must-have item in your decor highlights the simple, understated lines of this storage unit and stands out on your walls thanks to the chunky, modern visuals shelf fronts.
Why did TeeBooks choose the colour white? White! A timeless colour that suits all interiors, that blends with all styles, above all brings brightness to your room since it reflects light, visually enlarges the space and gives it a feeling of purity. Ideal on colourful walls to highlight your books, CDs or decorative objects, it also allows you, by contrast, to highlight everything you display on the white metal shelf.
Do you need a designer wall shelf for your CDs and plants or a contemporary bookcase for your books? Are you looking a modern decor? Choose the white Big Tee wall shelf and optimise your storage space in style!
The white metal shelf: designer furniture for space-saving storage
The Big Tee Wall Shelf - white metal 17.71 inches long is a comfortable surface to store, arrange and display your collections, decorative objects, books and DVDs with elegance. Even in the kitchen, your white shelves will be handy for holding spice jars or small recipe books. Enjoy brightening up the walls of your living room, office or bedroom with these wall shelves that you can put wherever you want on your wall to personalise your designer storage unit. Two well-aligned rows will bring a linear style and make your rooms seem larger. A staggered or asymmetrical arrangement will make your wall decoration more dynamic.
In any case, thanks to these metal wall shelves, you will gain some storage capacity, without making your rooms look overcrowded, thanks to this wall storage unit! The white metal designer wall shelf is the space-saving solution for small spaces. Customise your library according to your desired aesthetic result. You can even save space by adding other combinations from the TeeBooks range for an even more harmonious final result.
See more Wall shelves.
How to fix a wall shelf ?
All wall types
How to fix a wall shelf ?
Plasterboard wall
How to set up your bookcase?
How to fix a wall shelf TEEall 100 cm?
How to fix a wall shelf TEEall 50 cm?

Our customers also like
Price

$407.20

Regular price

$684.00

-$276.80

Price

$89.00

Regular price

$178.00

-$89.00

Price

$979.00

Regular price

$1,097.00

-$118.00

Price

$1,860.00

Regular price

$2,736.00

-$876.00

Price

$239.20

Regular price

$474.00

-$234.80

Price

$969.00

Regular price

$1,368.00

-$399.00

Price

$443.20

Regular price

$744.00

-$300.80