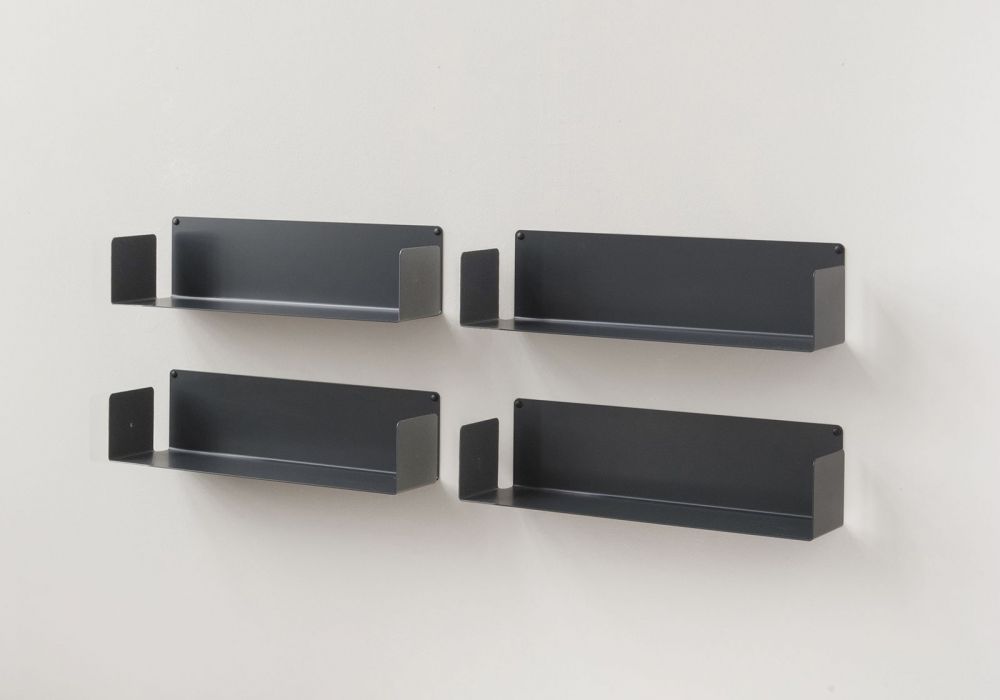 Floating wall shelves Gray U 23,62 inches long - Set of 4
The set of 4 floating shelves  "U" is simple and functional way to store your book collection.
Characteristics for each shelf : 5,9 inch deep, 5,9 inch high, 23,62 inch long, weight 7 pounds.
Each shelf can holds up to 44 pounds.
The 4 shelves offer 94,48 inch of usable length !
Depth

4 x 15 cm

Height

4 x 15 cm

Lenght

4 x 60 cm

Weight

4 x 3,2 kg

Capacity

4 x 15 kg

Painting

Matt Epoxy

Material

Acier FE 360 DC01
Floating wall shelves U 23,62 inch long - Set of 4

You can use the "U" floating wall shelf to create your very own TEEbooks Bookcase.
A simple, functional wall mounted shelf, just the way you want it.
Display your books, your DVDs, CDs, horizontally and/or vertically, that's one of the big advantages with TEEbooks wall shelves. The wall-mounted shelves open up many possibilities.
A simple design which delivers a simple and functional shelf Design.
How to fix a wall shelf ?
All wall types
How to fix a wall shelf ?
Plasterboard wall
How to set up your bookcase?

Our customers also like
Price

$316.00

Regular price

$396.00

-$80.00

Price

$284.00

Regular price

$414.00

-$130.00

Price

$167.00

Regular price

$192.00

-$25.00

Price

$102.00

Regular price

$138.00

-$36.00

Price

$312.00

Regular price

$384.00

-$72.00

Price

$444.00

Regular price

$576.00

-$132.00

Price

$488.00

Regular price

$576.00

-$88.00

Price

$655.20

Regular price

$819.00

-20%
Others products in the same category
Price

$167.00

Regular price

$192.00

-$25.00

Price

$289.00

Regular price

$344.00

-$55.00