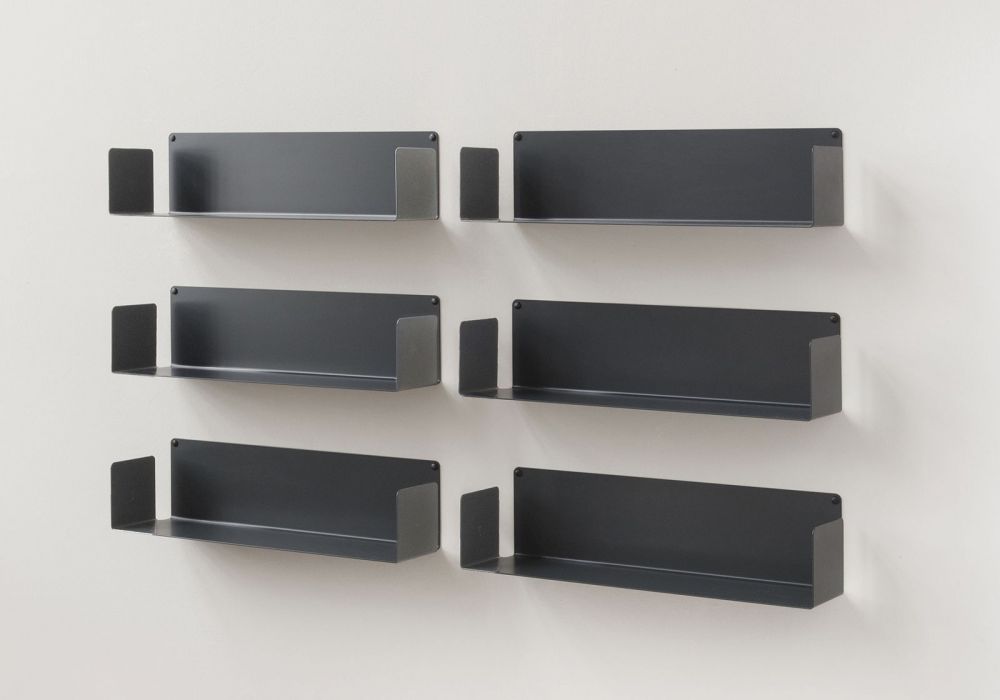 DVD storage Gray - 23,62 inches long - Set of 6
The set of 6 UDVD wall shelf is simple and functional way to store your DVD collection.
Characteristics of each shelf: depth 5,9 inch, height 5,9 inch, length 23,62 inch, weight 7 pound
Made of FE 360 DC01 steel
Can contain approximately 56 CDs and holds up to 44 pounds.
The set of 6 offer 141,72 inch of usable length (approx. 240 DVDs)
Depth

6 x 15 cm

Height

6 x 15 cm

Lenght

6 x 60 cm

Weight

6 x 3,2 kg

Capacity

6 x 15 kg

Capacité DVD

6 x 40 DVD

Painting

Matt Epoxy

Material

Acier FE 360 DC01
DVD storage - Set of 6 UDVD
You can create your own TEEbooks DVD storage as you like for storing your DVDs horizontally and/or vertically using TEEbooks DVD shelves; this is the advantage of aTEEbooks media storage. 
In fact, the huge amount of variations that TEEbooks DVD shelves offer means you can create a wall mounted DVD storage that is always simple and functional. 
You can choose the color of the set of "6UDVD" shelves, either white or grey or red, by clicking on the desired color and you will receive a white, grey or red DVD storage.
The "6UDVD" DVD shelving system has 141,72 inch of usable length (approx. 234 DVDs) thanks to its DvD shelves.
How to fix a wall shelf ?
All wall types
How to fix a wall shelf ?
Plasterboard wall
How to set up your bookcase?

Our customers also like
Price

$488.00

Regular price

$576.00

-$88.00

Price

$444.00

Regular price

$576.00

-$132.00

Price

$284.00

Regular price

$414.00

-$130.00

Price

$174.00

Regular price

$236.00

-$62.00

Price

$158.00

Regular price

$172.00

-$14.00

Price

$316.00

Regular price

$396.00

-$80.00

Price

$655.20

Regular price

$819.00

-20%
Others products in the same category
Price

$167.00

Regular price

$192.00

-$25.00

Price

$312.00

Regular price

$384.00

-$72.00