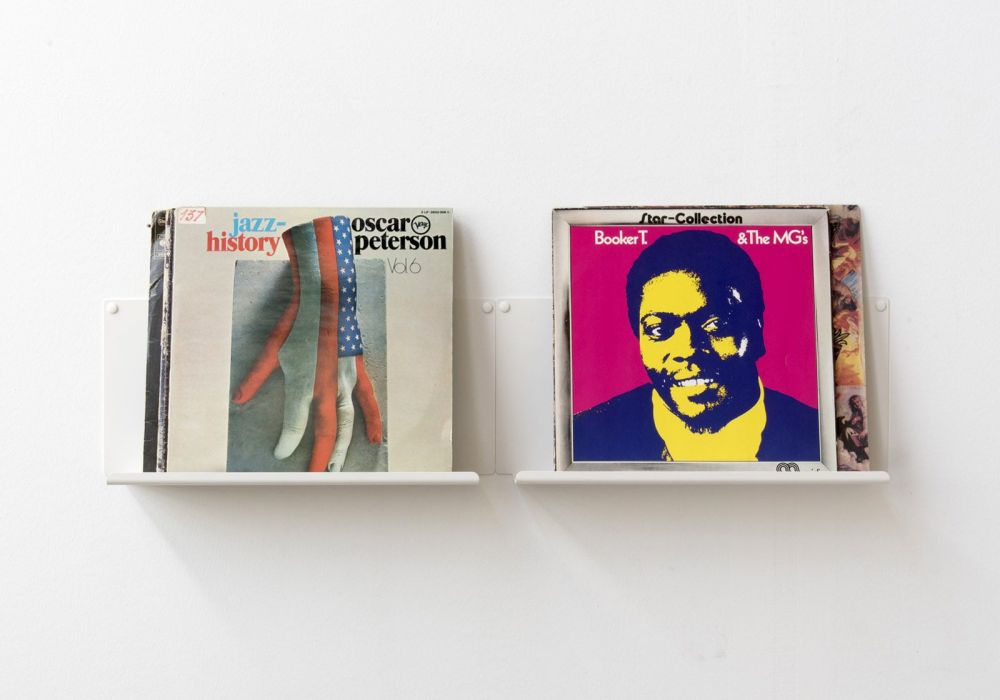 Set of 2 "LE" Display Shelf for Records
The set of two "LE" shelf is a simple storage system to show off your vinyl records.
Shelf dimensions: Length 45cm x Height 20cm x Depth 10cm, Weight 1.8kg
Material: 1.5mm thick steel
Each wall shelf can hold up to 20kg and provides 45cm of storage space.
The 10cm depth is perfect for exhibiting your LP collection like a work of art!
Depth

2 x 10 cm

Height

2 x 20 cm

Lenght

2 x 45 cm

Weight

2 x 1,8 kg

Capacity

2 x 15 kg

Painting

Matt Epoxy

Material

Acier FE 360 DC01
Set of 2 "LE" Display Shelf for Records
"LE" vinyl storage shelves are small wall shelves featuring a compact 10cm depth.
The elegant style you desire as a collector of LPs.
TEEbooks record storage shelves have a simple and elegant design that can be used in many different ways to hold your 33's, 45's and 78's.
View other shelves for vinyl.

Our customers also like
Price

$204.00

Regular price

$276.00

-$72.00

Price

$655.20

Regular price

$819.00

-20%

Price

$444.00

Regular price

$576.00

-$132.00

Price

$316.00

Regular price

$396.00

-$80.00

Price

$312.00

Regular price

$384.00

-$72.00

Price

$277.00

Regular price

$339.00

-$62.00

Price

$444.00

Regular price

$528.00

-$84.00

Price

$410.00

Regular price

$516.00

-$106.00

Price

$380.00

Regular price

$480.00

-$100.00
Others products in the same category
Price

$167.00

Regular price

$198.00

-$31.00

Price

$316.00

Regular price

$396.00

-$80.00

Price

$625.60

Regular price

$782.00

-20%

Price

$299.00

Regular price

$376.00

-$77.00