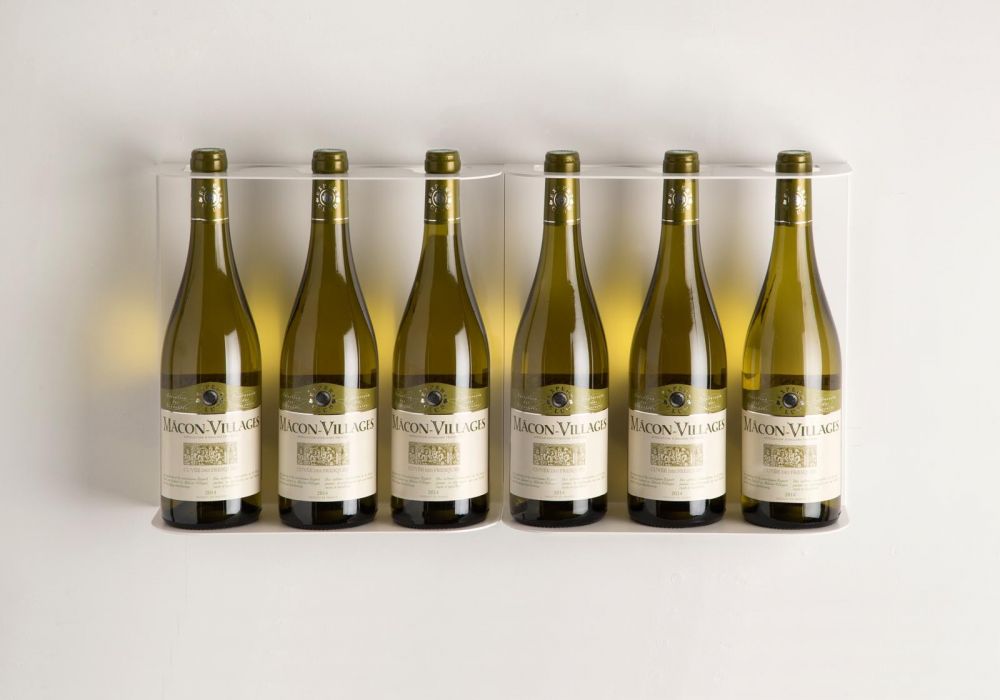 Wine wall shelves TEEwine - set of 2 shelves
The set of 2 wine wall shelves TEEwine can hold up to 6 bottles.
Works with a wine bottle, vinegar, oil, water...
Characteristics : depth 3,93, height 11,02 inch, length 11,02 inch, weight 3,3 pounds.
Each shelf can hold up to 22,04 pounds.
You can assemble them to create a small wall-mounted unit for the kitchen.
Depth

2 x 10 cm

Height

2 x 28 cm

Lenght

2 x 28 cm

Weight

2 x 1.5 kg

Capacity

2 x 10 kg

Painting

Matt Epoxy

Material

Steel 0,05 inch of thickness + 3 elements in nylon
Wine wall shelves TEEwine - set of 2 shelves
You can use the bottle holder to store your bottles as you wish in a limited space. A wall-mounted bottle holder made of high-quality steel, which ensures robustness and strength. It presents your bottles in a classy and chic way by adding an embellishing aspect to your interior. Thanks to this wine wall shelf, it is very easy to store your wines and showcase your most precious vintages, making them visible to your guests.

Our customers also like
Price

$312.00

Regular price

$384.00

-$72.00

Price

$199.00

Regular price

$219.00

-$20.00

Price

$444.00

Regular price

$528.00

-$84.00

Price

$655.20

Regular price

$819.00

-20%

Price

$312.00

Regular price

$384.00

-$72.00

Price

$444.00

Regular price

$576.00

-$132.00

Price

$277.00

Regular price

$339.00

-$62.00

Price

$314.00

Regular price

$372.00

-$58.00

Price

$316.00

Regular price

$396.00

-$80.00
Other product in the same category
Price

$199.00

Regular price

$219.00

-$20.00