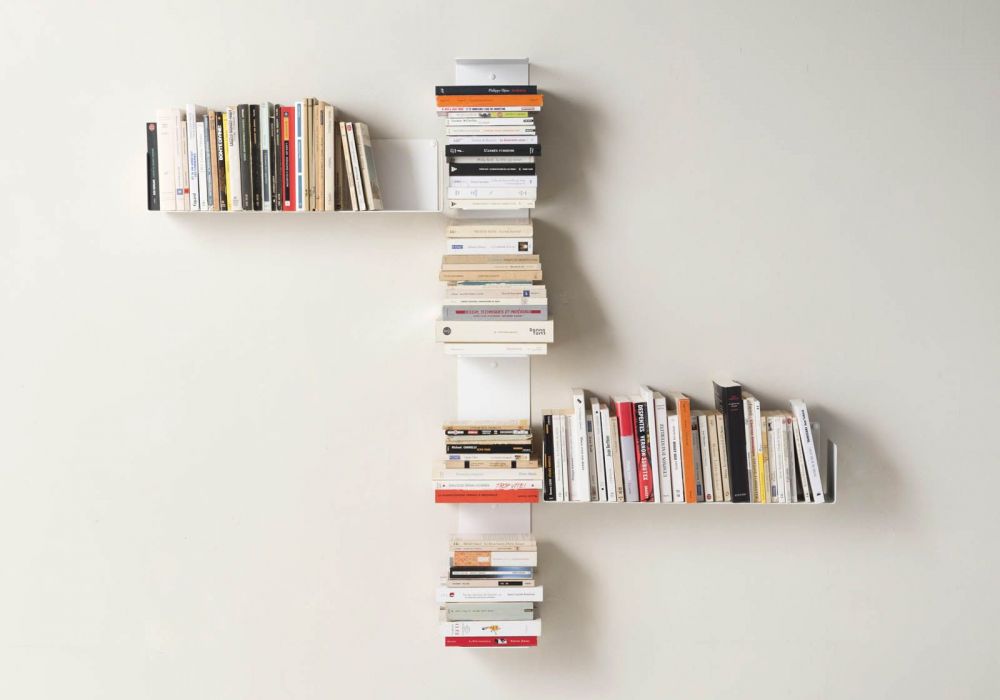 Chicane Shelf designer bookcase
     Blending the vertical and the horizontal, the Chicane Shelf designer bookcase brings a dynamic touch, full of originality, to your walls.
     Bookcase dimensions: 120cm tall x 135cm wide x 15cm deep.
     Supplied with screws and wall plugs.
     Material: High-grade steel FE 360 DC01.
     White epoxy paint.
     Very easy to assemble.
Others products in the same category
Depth

15 cm

Height

120 cm

Painting

Matt Epoxy

Material

Acier FE 360 DC01
A resolutely modern Chicane Shelf designer bookcase
Tired of classic, imposing bookcases that clutter up your rooms without providing any decoration? With TeeBooks and its ultra-designer book shelf, you can choose to be bold and contemporary. Blending the vertical and the horizontal, this bookcase brings a dynamic touch, full of originality, to your walls: arrange the four parts of this unit however you wish. Its visually light and discreet structure fades away to showcase your books, as well as your CDs and DVDs.
This CHICANE Shelf designer bookcase is a major decorative asset that will elegantly adorn the walls of your rooms: its steel structure is very stylish at the moment and its rounded corners will bring harmony and softness to your home. Enhance your dining room, your office or any other room with this white steel CHICANE shelving unit that can be adapted for all styles. Indeed, white reflects light, goes well with all colours and above all is ideal to make your books and your decor stand out.
A space-saving bookshelf for a maximum number of books
Choosing a wall bookcase is very wise as it avoids the overcrowding of furniture on the floor, allowing a visual ventilation of the space. Your books will stand out more and be more prominently displayed. Your CHICANE bookcase offers comfortable dimensions with 360 cm of linear surface to allow you to store a multitude of books of various sizes. Composed of 6 shelves that you can place however you wish, it offers a substantial storage space which is over 120cm tall and 135cm wide. As the shelves are 15cm deep, they have the advantage of not weighing down the volumes in the room.
If you want to dust off the very linear style of endless rows of books, you'll be making the right choice with the CHICANE shelf designer bookcase! This original storage space offers the possibility of alternating vertical and horizontal stacks of books. Did you want to show off certain volumes? Place them on the vertical shelf and your guests won't have to strain their necks to look at the titles on display. Finally, since your bookcase is a decorative feature, take advantage of the space offered to you on the horizontal shelves to display some beautiful plants or bookends.
Discover all our bookshelf models.
How to fix a wall shelf ?
All wall types
How to fix a wall shelf ?
Plasterboard wall
How to set up your bookcase?
How to fix a wall shelf TEEall 100 cm?
How to fix a wall shelf TEEall 50 cm?
Our customers also like
Price

$239.20

Regular price

$474.00

-$234.80

Price

$407.20

Regular price

$684.00

-$276.80

Price

$287.20

Regular price

$456.00

-$168.80