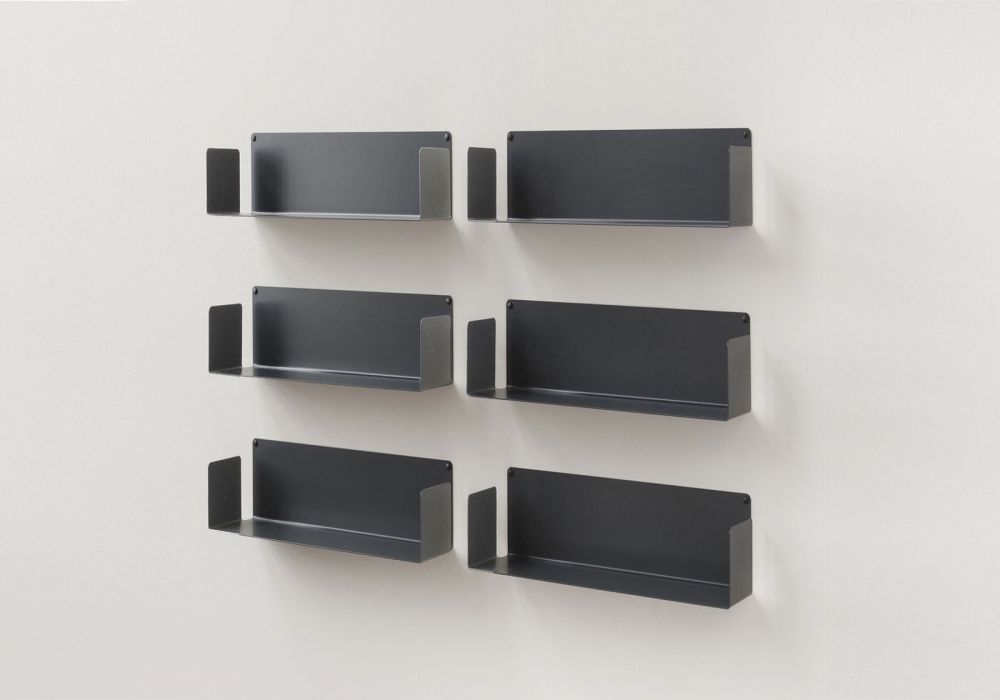 Wall bookshelves Gray US 17,71 inches long - Set of 6
The set of 6 wall bookshelves US is simple and functional way to store your book collection.
Characteristics for each shelf : 5,9 inch deep, 5,9 inch high, 17,71 inch long and weight 6,17 pounds.
Made of FE 360 DC01 steel
Each shelf can holds up to 33 pounds.
The 6 shelves offer 106,26 inch of usable length !
Depth

6 x 15 cm

Height

6 x 15 cm

Lenght

6 x 45 cm

Weight

6 x 2,8 kg

Capacity

6 x 10 kg

Painting

Matt Epoxy

Material

Acier FE 360 DC01
Wall bookshelves US 17,71 inch long - Set of 6

You can use all of these wall bookshelves to create a TEEbooks floating shelves to your specifications.
Display your books, your DVDs, CDs, horizontally and/or vertically, that's one of the big advantages with TEEbooks shelves.
The wall-mounted shelves open up many possibilities. A simple design which delivers a simple and functional shelf Design.
How to fix a wall shelf ?
All wall types
How to fix a wall shelf ?
Plasterboard wall
How to set up your bookcase?
How to fix a wall shelf TEEall 100 cm?
How to fix a wall shelf TEEall 50 cm?

Our customers also like
Price

$845.00

Regular price

$1,188.00

-$343.00

Price

$846.00

Regular price

$941.00

-$95.00

Price

$314.00

Regular price

$416.00

-$102.00

Price

$254.00

Regular price

$396.00

-$142.00

Price

$1,618.00

Regular price

$2,376.00

-$758.00

Price

$351.20

Regular price

$594.00

-$242.80

Price

$385.60

Regular price

$648.00

-$262.40
Others products in the same category
Price

$243.20

Regular price

$396.00

-$152.80

Price

$231.20

Regular price

$368.00

-$136.80