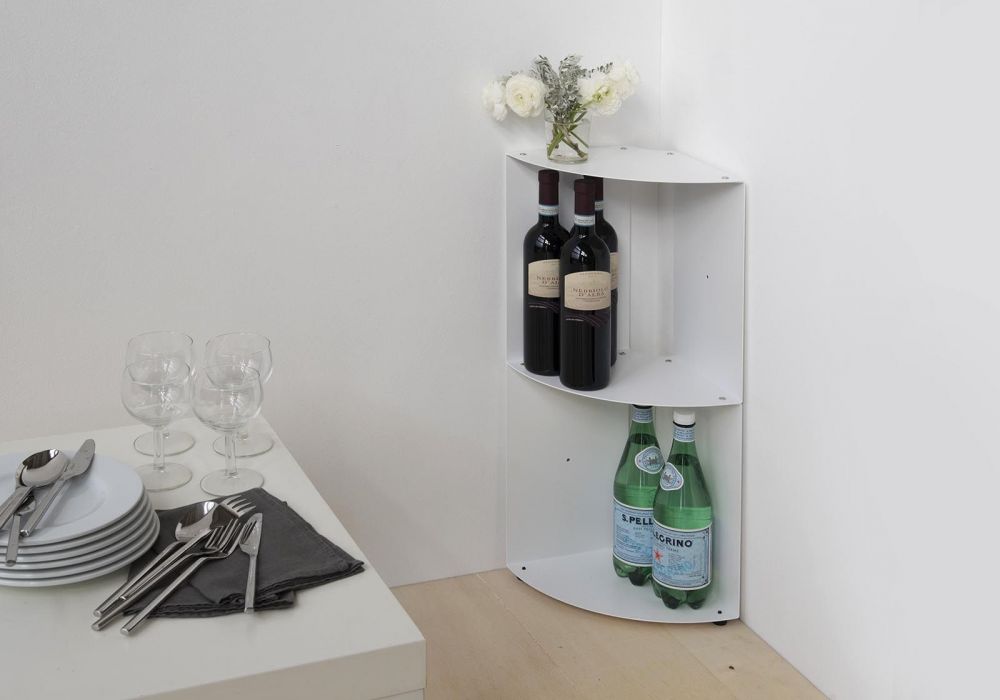 Kitchen corner shelf DANgolo - Steel - 9,8 x 9,8 x 27,5 inch
DANGOLO is a functional and adaptable wall corner shelf.
With its refined and minimalist style, its design will go with any kitchen style.
Add more pieces and let your shelving climb sky-high!
Characteristics : Depth 9,8 inch, Length 9,8 inch, height 27,5 inch
Made of FE 360 DC01, matte epoxy paint
DANGOLO will subtly make the most of all the corners of a kitchen
Depth

2x25 cm

Height

2x34 cm

Lenght

2x25 cm

Weight

2,8

Painting

Matt Epoxy

Material

Acier FE 360 DC01
Kitchen corner shelf DANgolo - Steel - 9,8 x 9,8 x 27,5 inch
Use as a little minimalist corner cabinet when installed on the floor or as practical storage attached to the wall; DANGOLO is a functional and adaptable wall corner shelf. Add more pieces and let your shelving climb sky-high!
Available in two colours (black or white), DANGOLO will fit right in to your rooms, adapting to both your needs and desires. With its refined and minimalist style, its design will go with any kitchen style.
Used as a little cabinet on the floor (or not), DANGOLO will subtly make the most of all the corners of a kitchen. Its great storage capacity allows it to hold 30kg!
How to fix a wall shelf ?
All wall types
How to fix a wall shelf ?
Plasterboard wall
How to set up your bookcase?

Our customers also like
Price

$284.00

Regular price

$414.00

-$130.00

Price

$655.20

Regular price

$819.00

-20%

Price

$444.00

Regular price

$576.00

-$132.00

Price

$316.00

Regular price

$396.00

-$80.00

Price

$488.00

Regular price

$576.00

-$88.00
Others products in the same category
Price

$204.00

Regular price

$276.00

-$72.00